This post comes to you after several tantrums episodes of foot stomping because I could not for the life of me get my camera to do what I wanted it to. Yes, I stomp my feet when I am mad. Yes, it's okay because I am only 5 feet, 2 inches tall, and short women are allowed to stomp. And yes, that is an official rule.
And really, it was the camera's fault. It's all technical and fancy, with buttons that I don't know how to work - yet. It was simply not cooperating. It also doesn't take kindly to food bribes, which always works with the hubs and Arnold, so I was left with noting else to do but stomp. I am sure there is someone out there who understands my plight.
But moving on to the good stuff. I have an undying love for sweet, dark cherries. I love them most when they are fresh and in-season, but for those months when fresh cherries aren't available, I opt for jarred.
I usually get the jarred version from a German store near my parents home, which is sadly closing and this is me stomping my feet and being very mad sad about this.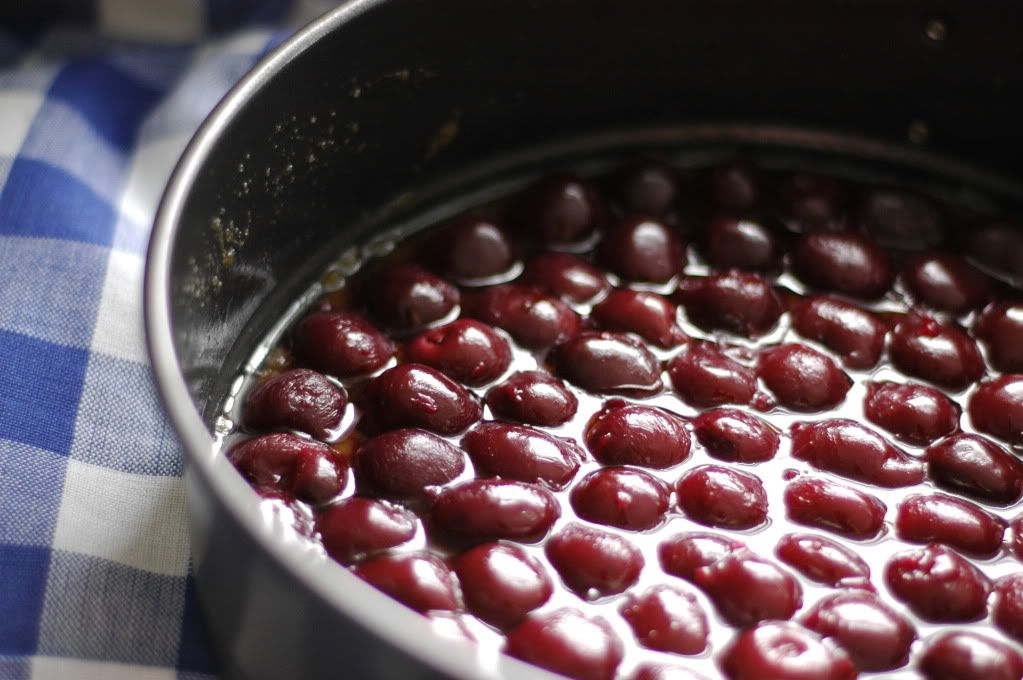 So this past weekend, while I was mourning the loss of my little German store, I racked my brain about what to do with a few cans of cherries I had picked up at the store a few weeks earlier (I am hoarding all of my jarred cherries for a later date).
I have been wanting to make some sort of corn, cherry muffin bread concoction, but I just wasn't feeling it. Instead, I was craving cake. And since I went to spinning class this weekend, I got to eat cake. That is also an official rule.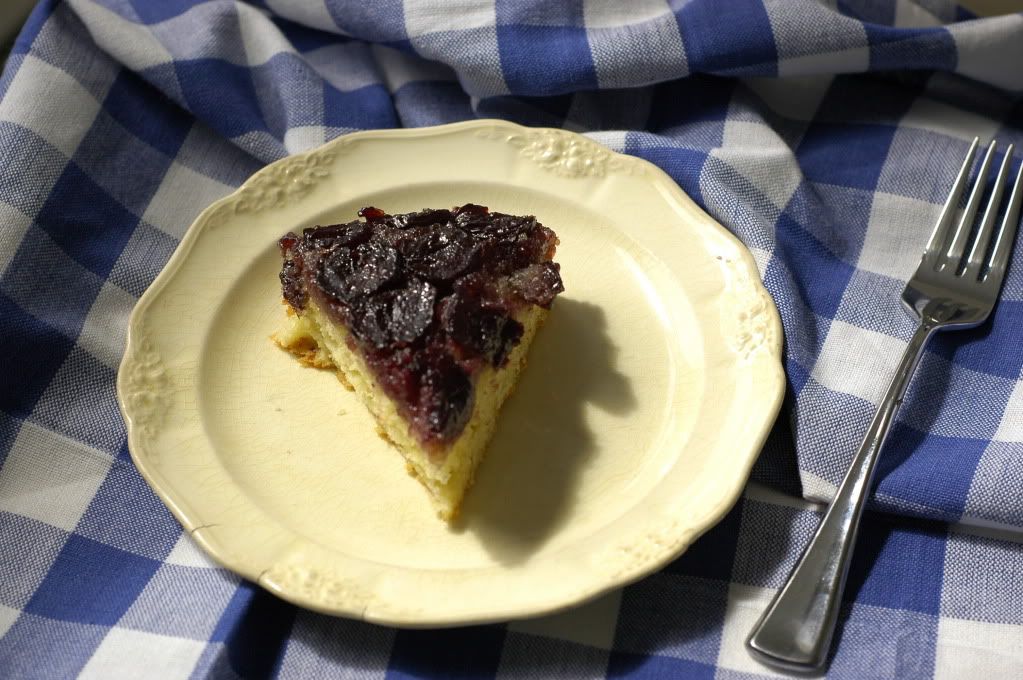 After some nosing around, I happened across a cherry-upside down cake at the
Food Librarian
.
I love upside-down cakes, mainly because of how they look, but also because you get the softness of a cake, coupled with a gorgeous fruit topping that always gets this perfect caramelized edge. In my mind, it's the ideal picnic cake, and I could easily envision myself in some gorgeous field in Europe, sipping wine and eating cake like it's nobody's business. If anyone out there needs someone to be an official European cake eater/tester/whatever, call me.
This recipe is originally from Bon Appétit, circa 1997, and I adapted it ever so slightly. I like to do a little recipe throwback every once in awhile, because that's just how I roll (okay, by now you've probably figured out that I am a major dork, and I really appreciate that you've even read this far down the post). But since you have, here is the recipe.
You will need:
For the cherry topping
1/4 cup (1/2 stick) unsalted butter
3/4 cup packed, light brown sugar
14 ounces cherries, halved, pitted (or in this case, one and a half cans of cherries, drained and cut in half)
1 teaspoon Almond extract (or more if you dig the almond flavor)
For the cake
1 1/2 cups all purpose flour
2 teaspoons baking powder
1/4 teaspoon salt
1 cup sugar
1/2 cup (1 stick) unsalted butter, at room temperature
2 large eggs, separated
1 tablespoon vanilla extract
1/2 cup whole milk
1/4 teaspoon cream of tartar